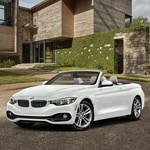 The BMW 4 Series remains a popular choice among small car enthusiasts for the body style options that BMW provides. The vehicles are manufactured as coupes, convertibles or sedans. Each ensures plenty of power under the hood, state-of-the-art technology and spacious interiors.
The 430i models have a turbocharged four-cylinder engine that achieves up to 248 horsepower. The vehicles also have automatic eight-speed transmissions. But, new owners may prefer the optional six-speed manual transmission. The 440i models are equipped with turbocharged six-cylinder engines that provide more power and achieve up to 320 horsepower.
The M4 models represent the high-performance models of the series. They are available in the convertible or the coupe body style. The vehicles have twin-turbocharged six-cylinder engines that generate up to 425 horsepower. The vehicles come standard with a six-speed manual transmission. Stop by our BMW of Sioux Falls facility and decide to test drive a commuting sedan, and adventurous convertible or a performing coupe.