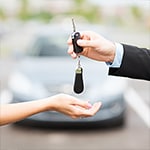 Our dealership wants to make sure you get the best deal possible when it's time for you to purchase your next used vehicle. We would like to offer you a few tips that might save you money or at least help you make an informed decision.
It's a good idea to check the reliability of the make and model. Just because a vehicle has more miles on it, doesn't mean it will need more maintenance. Some vehicles are more dependable than others. Checking the vehicle's history report can point out any major accidents the vehicle has been involved in. If the vehicle didn't get fixed correctly, it can lead to more problems down the road.
If the current owner won't let you take the vehicle to your own mechanic to have it inspected, run away. Our dealership would like to show you our used vehicle inventory. Stop in, and take one of our vehicles for a test drive today.