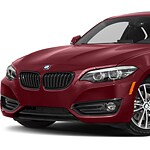 A showstopper in the coupe or convertible lineup market, the new BMW 2 series offers you the fast and sporty appeal that you want as a luxury car owner. The series makes available three coupe styles, the base model coupe, the Gran coupe and competition coupe. It also comes in a convertible trim.
All of the coupe and convertible options are built for speed and performance. They come with 2.0-liter inline turbo four-cylinder engines. They are rear-wheel vehicles, allowing you to get most of the power from the car's back wheels. They also come in eight eye-catching colors like orange, red and bright white. You can custom order them in the color that you want.
For all of their aerodynamic designs and powerful motors, the BMW 2 series cars also come with safety features like anti-lock brakes. You can test drive one today to experience their power and performance for yourself.