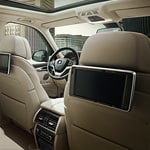 If you're not yet familiar with the new BMW X5, you're certain to be impressed with what you see when you visit our dealership in Sioux Falls for more details. The X5's popularity as a leader in the modern sports activity vehicle category is hard to dispute, and the current year models are here and ready for test driving today.
The X5's interior is set up for comfort and convenience. Plush, sumptuously upholstered seating and a thoughtfully designed console greet you as you enter the passenger cabin, and the standard moonroof overhead adds glamour and visual appeal.
For the exterior, you'll get a choice of colors and wheel packages to suit your individual tastes and preferences. You can also count on having ample power under the hood regardless of which specific X5 model you pick.